Drinking Tube + Tube Adapter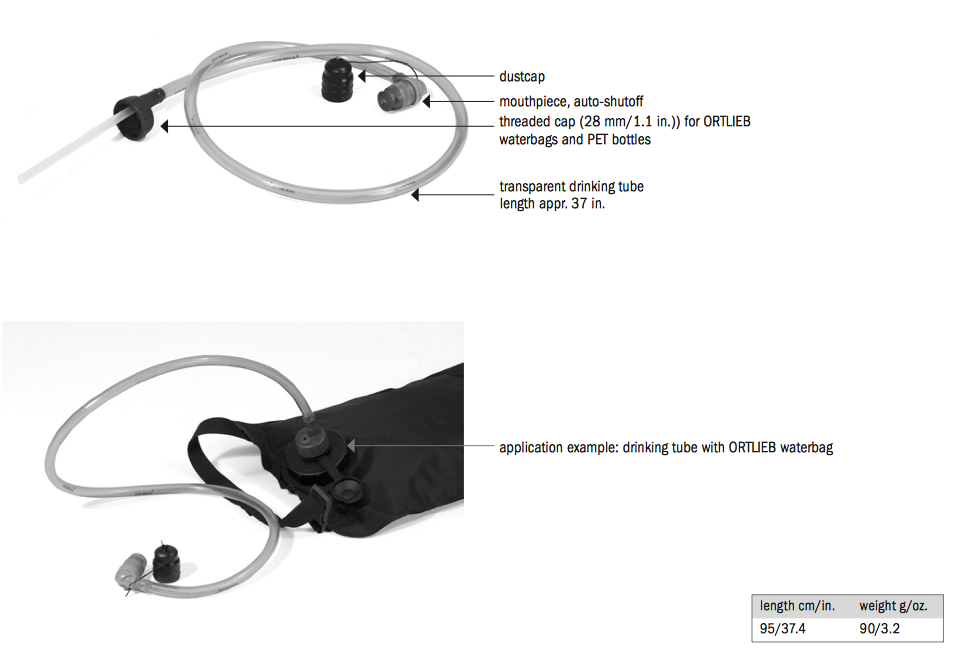 What it is:
Drinking tube for use with ORTLIEB water containers (waterbags, watersack, waterbelt) and international standard PET bottles with 28 mm thread
Converts waterbag, e.g. suspended in a tent, into a hands-free hydration system
Ideal with PET bottles in backpacks, bags or in the car
Screw threaded cap onto valve cap of ORTLIEB waterbag or PET bottle
Important info:
Remove dust cap from mouth piece, open drip-stop on mouth piece by turning it counterclockwise by 180° until it locks in place
For drinking simply bite valve and sip
Auto-shutoff by means of integrated spring valve
For closing turn mouth piece clockwise by 180°
length of tube can be adapted inside the container
mouthpiece can be taken apart for hygenical cleaning
cleaning with warm water and liquid soap
---
Folding Bowl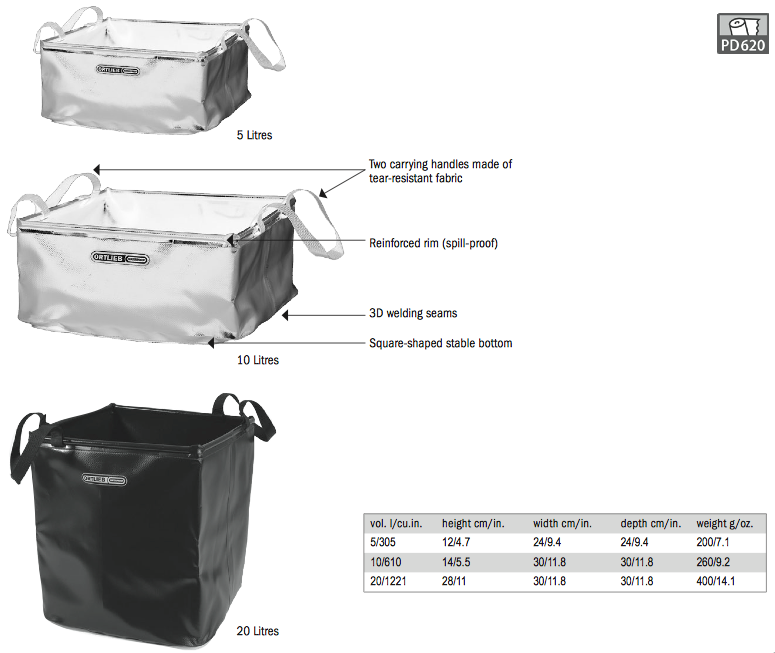 What it is:
Ideal for getting and carrying water (e.g. at a camp site)
Can be turned inside out; e.g. use one side for washing dishes, the other for preparing food • Ideal for feeding dogs, cats or horses etc.
Can be carried with one hand when full
Foldable into small size
Solid and stable
Easy to clean
Size XL: carrying handles in diagonal position to allow comfortable carrying
Important info:
Not spillproof when used for transportation e.g. inside a backpack, car or pannier
---
Shower Valve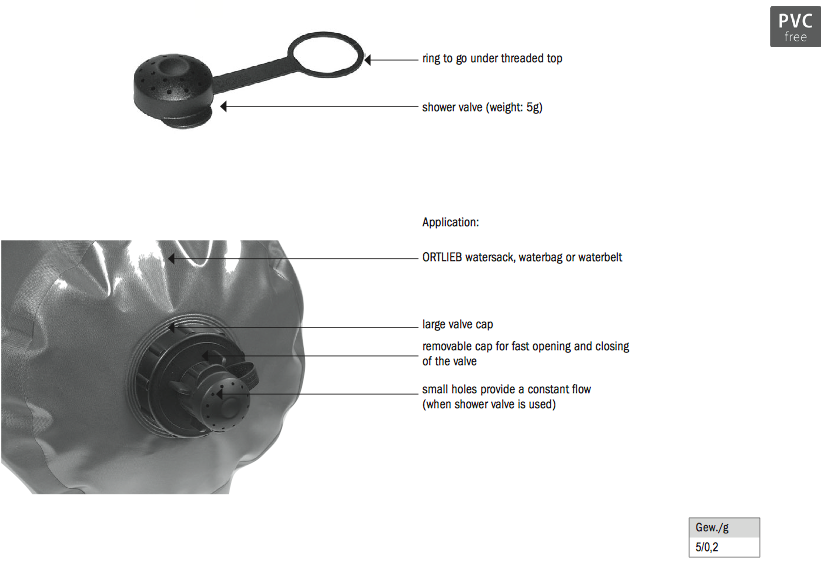 What it is:
Shower valve for all ORTLIEB water sacks, water bags and water belt from models 1999 on
the shower valve is placed under the small cover cap onto the threaded connector instead of the dust cap
simple metering of throughput by turning the shower valve
Ideal combination with the black 10l water sack or water bag as solar shower (check the water temperature prior to use – danger of boiling water)
Can be used for watering flowers or for washing dishes
For water transport: remove the shower cap, cover the valve with the dust cap and firmly close the valve
---
Water Sack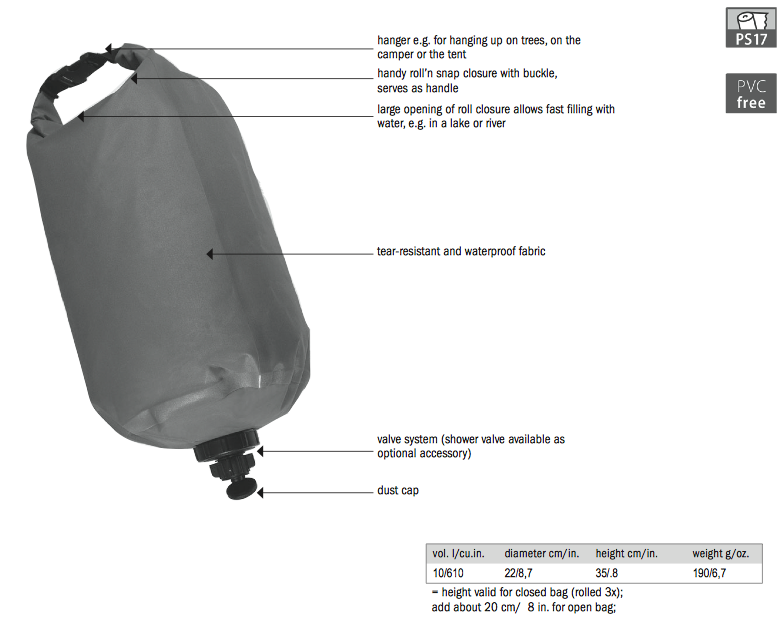 What it is:
Ideal for camping, trekking, expeditions etc. for fast filling and carrying of water
Foldable into small size
Can also be used as dry bag for clothing or as compression bag for sleeping bags
Can be used as camping shower; black watersack is an ideal solar shower (shower valve available as accessory art. code N30)
Can be combined with the Katadyn Siphon Filter for water purification (filter comes with an adapter)
A silicone tube (comes with the filter, available from Katadyn) allows direct filtering e.g. into an ORTLIEB waterbag or waterbowl
Only suited for water storage (in hanging position)
Do not fill with boiling water (maximum temperature 60°C / 140°F)
Easy to clean (mechanical cleaning with brush and neutral soap)
Store absolutely dry and completely open when not in use
Not suited for water transport in backpacks
Can be combined with ORTLIEB drinking tube (art. code N43)
Important info:
Do not expose drinking water too long to the heat. Change the water as often as possible. Fill with water only! Clean the valve regularly!
The 10 L waterbag comes with valve and dustcap.