City-Shopper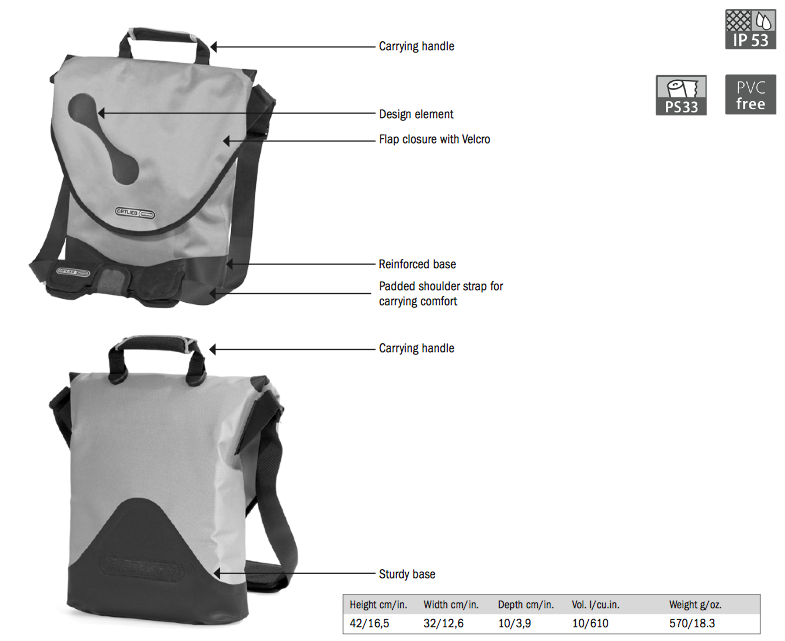 What it is:
Shoulder bag with flap closure
Vertically-shaped
Reinforced material at base and rear side
Internal liner with zippered inner pocket
Snaphook for keys
Pen slot
Size fits DIN A4 documents and 13,3" laptops
Optional accessories:
Notebook sleeve 13.3"
---
Duffle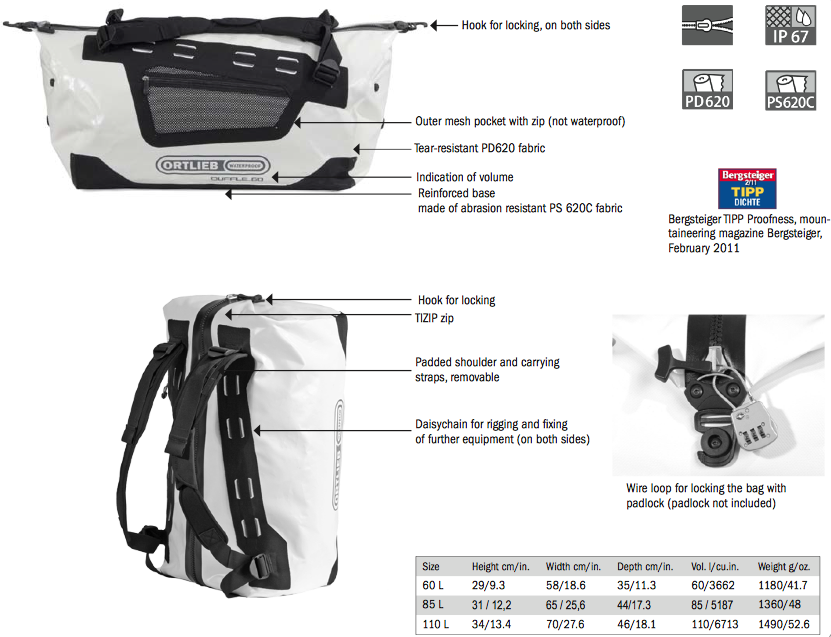 What it is:
Waterproof heavy duty expedition and travel bag in three sizes, can also be used as backpack
Can be carried as a duffle or a backpack
Long waterproof TIZIP zipper with large opening for easy access
1 inner compression strap adjusts volume
2 inner zippered pockets
1 outer mesh pocket with zipper (not waterproof)
2 daisychains on top side for rigging
Bag can be locked by using a padlock and inserting it through wire loop provided at zipper (lock not included, from model 2014 on)
Perfect for trekking, travel, expedition, boat trips
---
In-Town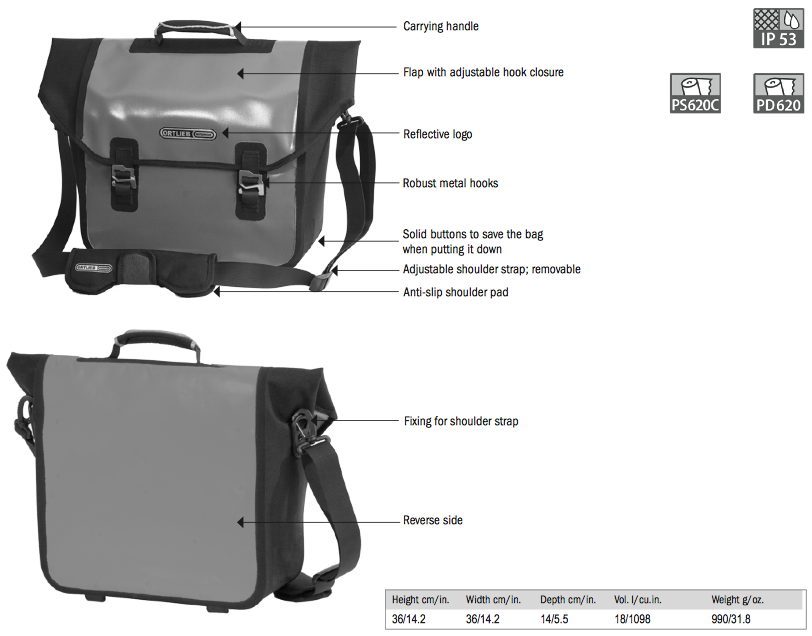 What it is:
Waterproof briefcase (single bag) with flap closure
Size ideal for 2 large office files or one file and a 13.3" or 15.4" laptop (notebook sleeves available as optional accessories)
Inner compartments with each two zippered and two slot pockets
Snaphook for keys
Carrying handle
Reflectors on both sides
Broad, adjustable padded shoulder strap; removable
---
Rack-Pack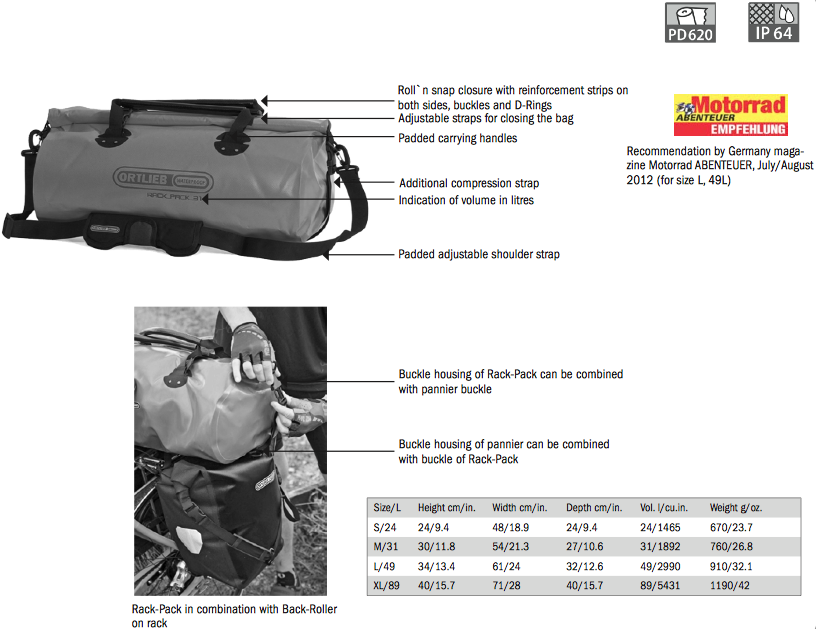 What it is:
Multipurpose bag for many activities: sports (e.g. soaking wet suits), travel, leisure, biking, motor biking
Removable shoulder strap
Easily accessible with wide opening
Can be combined with ORTLIEB Back-Roller and Front-Roller bicycle panniers on top of a rear rack
Easy to clean
---
Sling-It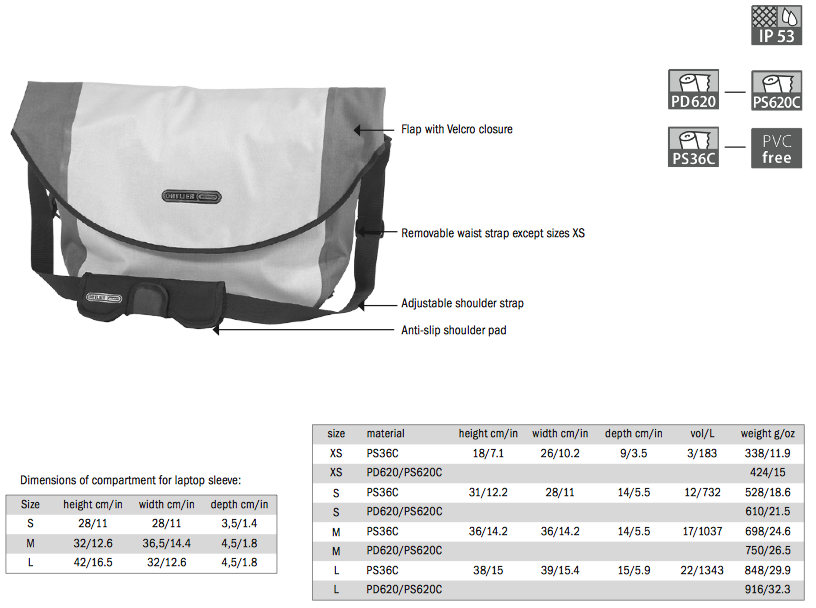 What it is:
Waterproof shoulder bag with flap (velcro closure) in four sizes and two different material versions
Internal compartment for laptop sleeve (available as accessory for size S/M/L)
2 inner pockets with zippers, one large internal compartment with further subdivision for pens, mobile phone etc.
Wide padded adjustable shoulder strap
The waiststrap (removable) keeps the bag on the back during cycling (except in size XS) • Snaphook is provided on the inside for safe storing of keys etc.
Important Info:
Size S for laptop computers with displays up to 13,3 in
Size M for laptop computers with displays up to 15,4 in.
Size L or laptop computers with displays up to 17 in. • Bag comes with shoulder strap and padded insert Utility Model 202 10 829.5 (Splashwaterproof Bag)
---
Travel-Zip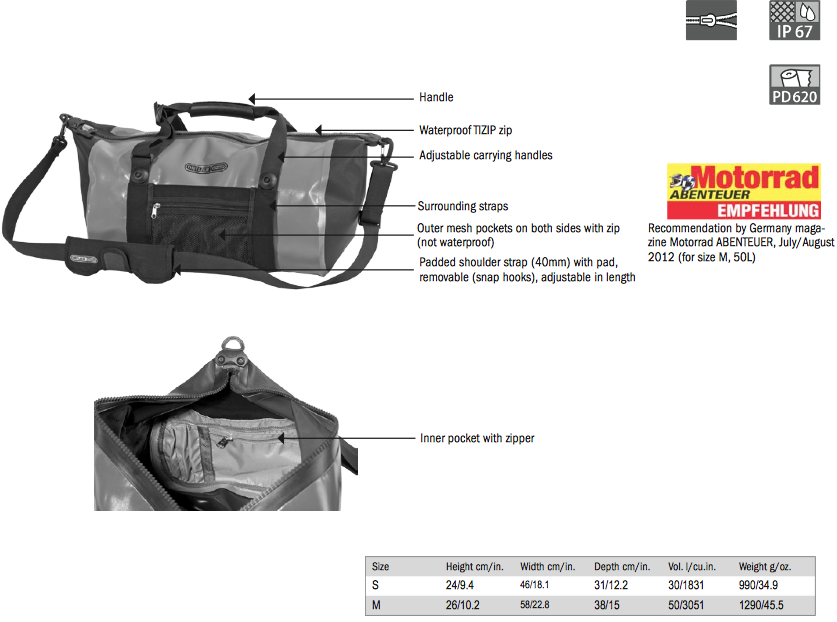 What it is:
Sports and travel duffle bag with waterproof TIZIP zip
1 zippered inner pocket for valuables and with pen slot
2 outer mesh pockets with zipper (not waterproof)
Waterproof zipper allows fast access to the bag's contents
The shoulder strap is adjustable in length and can be removed
Can be nicely carried on the back thanks to the adjustable carrying handles
Fabric is easy to clean, abrasion and tear resistant
---
Zip-City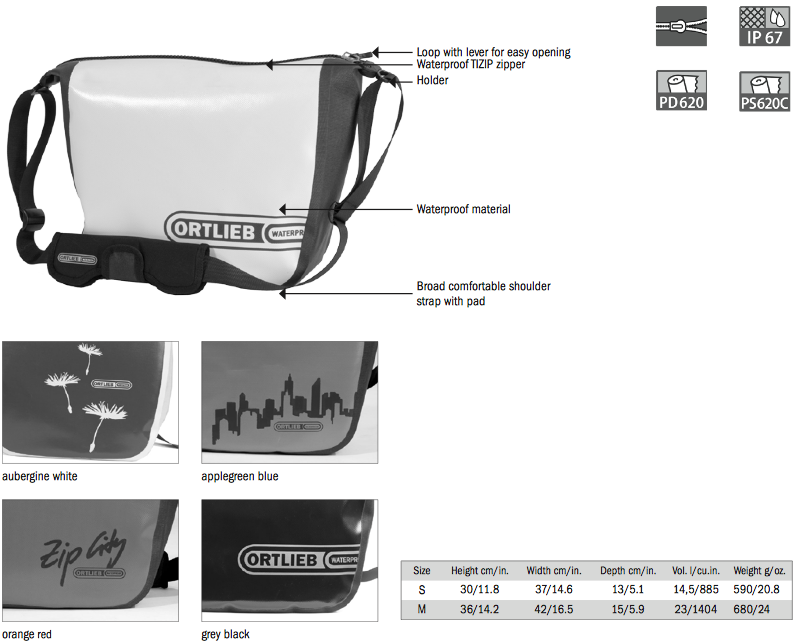 What it is:
Waterproof messenger-type shoulder bag in two sizes with waterproof TIZIP zip
Different designs available
Inner pocket with numerous document pockets and folders, pen slots, snap hook for keys • Fixing strap (holds the bag in place during cycling)
Optional accessories:
Notebook Sleeve 13.3" for size S, 15.4" for size M
---
Transporter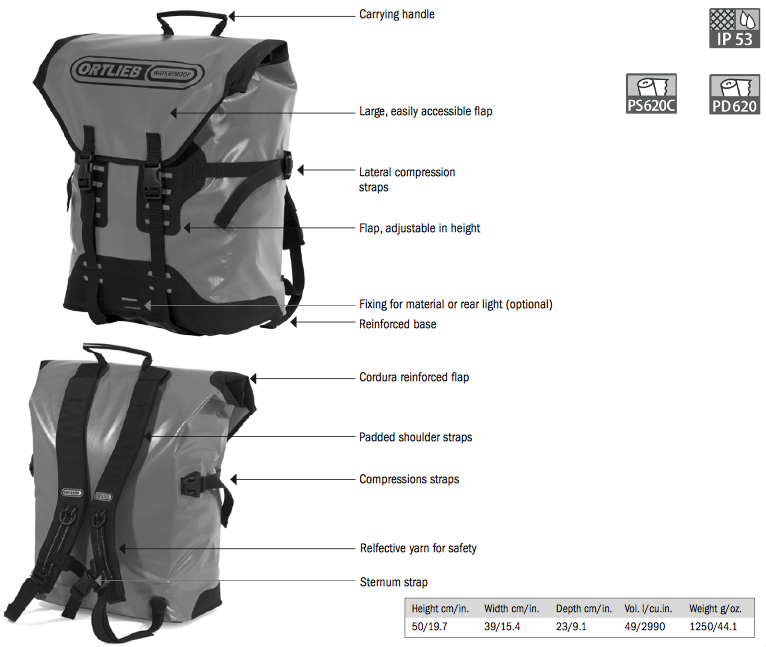 What it is:
Waterproof sturdy rucksack made of coated polyester and Cordura fabric
Ideal for transporting bulky goods
Flap adjustable in height and reinforced with Cordura
Outer compression straps for compact loading
Internal pocket